Welcome to the Auchinleck History Hunt
Time travel through Auchinleck's history with Graveyard Guardians True and Faith.
Why not visit the Churchyard to make this walk through history and unlock its secrets: Auchinleck Old Church, Auchinleck, KA18 2AB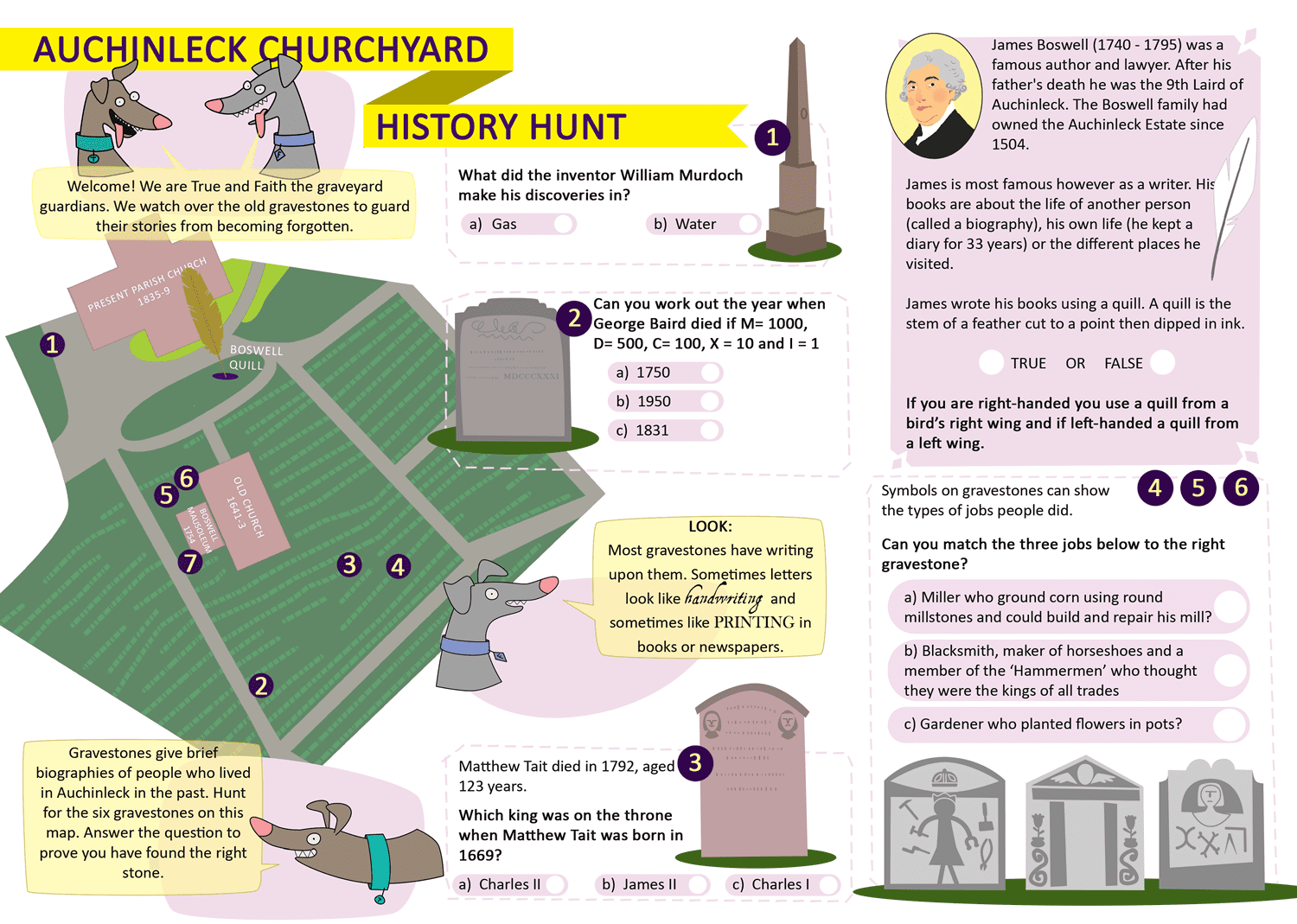 1 of 21
Click image to enlarge
2 of 21
George Baird was the son of a farmer and only 15 when he died of gas poisoning. He wanted to see inside a coalpit, not realising the danger. Three men went to save him but it was too late. The first man down the pit was James Murdoch, a miner aged 25. James also died and is buried in this churchyard but his family didn't have enough money for a gravestone.
3 of 21
Click image to enlarge
4 of 21
Erected Robert Baird, Dalfad In memory of son George XX Oct MDCCCXXXI XV years.
5 of 21
Matthew Tait died in 1792, aged 123 years. He lived through the reigns of 7 different kings and queens. He was a soldier. He married twice, and one wife made him happy, the other sad – both are shown on his gravestone! Local legend says he also told people's fortunes and carved spoons out of horn. His death was reported in newspapers all across Britain, appearing next to the death of the British Prime Minister.
6 of 21
'Erected In memory of Matthew Tait who was born in the reign of Charles II. He served as a private soldier at the taking of Gibraltar in 1704 and died at Auchinleck Village 10.3.1792 aged 123 years.'

7 of 21
Click image to enlarge
8 of 21
The crown above the blacksmith's tools indicate that he was a member of the Incorporation of Hammermen.
9 of 21
Carving of a man holding a hammer and horseshoe, above his head is a crown, and there are a number of other tools, including plyers and tongs. (Reverse side) – Here lyes the corpse of Alex Peden who departed this life Ma-, Jas… his s… 175-…
10 of 21
Click image to enlarge
11 of 21
Winged faces represent souls and the belief in a Heaveny afterlife. Potted tulips symbolise Andrew Bruce's job as gardener and overseer of the Auchinleck Estate.
12 of 21
Click image to enlarge
13 of 21
The burial place of Andrew Bruce. He was gardner at Auchinleck for 30 years died 8.4.1741 aged 50 years. Carvings – winged soul, pillars, 2 thistles in pots.
14 of 21
These tools show James Samson was able to build and repair, as well as run, his mill.
15 of 21
Click image to enlarge
16 of 21
Erected John Samson, Knockroon, In memory of father James 7.9.1821 aged 55, mother Jane Smith 27.6.1834 aged 79, sister Margaret 7.2.1862 aged 53.
17 of 21
This coat of arms belongs to the Boswell family.
18 of 21
The Boswell Mausoleum was enlarged in 1754 by biographer James Boswell's father, Lord Auchinleck, for his family to rest privately in peace together. There is no public access to the mausoleum today.
19 of 21
Click image to enlarge
20 of 21
Click image to enlarge
21 of 21
Download your own copy
Click the 'Download Map' button to get your own copy of the Auchinleck History Hunt. (PDF 450KB)
Download Map