In 2011 The Boswell Trust launched the world's only book festival dedicated to biography and memoir. By concentrating on the genres at which Boswell excelled, the Festival has significantly raised awareness of Boswell's life and work through a stimulating programme of talks and workshops by leading biographers and memoirists writing today, with a much-anticipated annual talk by the leading Boswell expert and publisher of the Boswell papers at Yale University, Dr Gordon Turnbull. The Festival is held at glorious Dumfries House on the edge of Auchinleck and has fast established itself as a firm fixture on the UK festival calendar.
Click above to view a short film of the 2011 festival
A galaxy of stars 2011-2019:
Kate Adie, Diana Athill, Damian Barr, Mark Billingham, Sue Black, Alfie Boe, Tim Bouverie, Christopher Brookmyre, Captain Eric 'Winkle' Brown, Ursula Buchan, John Byrne, the Duke of Buccleuch and Queensberry, Susan Calman, Artemis Cooper, Jung Chang, Tam Dalyell, Judi Dench, Tom Devine, Fenella Fielding, Gregor Fisher, Janice Galloway, Rosemary Goring,  Rifleman Victor Gregg, Loyd Grossman, Thomas Harding, Selina Hastings, Nigel Havers, Richard Holloway, Richard Holmes, Anthony Horowitz, Sir Tom Hunter, Richard Ingrams, Martin Jarvis, Charles Jencks, Alan Johnson, Professor Steve Jones, Jackie Kay, Allan Little, Andrew Lownie, Joanna Lumley, Claire Macdonald, Ben Macintyre, Sir James Macmillan, Allan Massie, Sally Magnusson, Alexander McCall Smith, Candia McWilliam, Alistair Moffat, Charles Moore, Eric Motley, Philip Mould, Ferdinand Mount, Judy Murray, Jeremy Musson, James Naughtie, Alex Norton, Maggie O'Farrell, Andrew O'Hagan, Neil Oliver, Helen Pankhurst, Matthew Parris, Bill Paterson, Ian Rankin, Malcolm Rifkind, James Roberston, Philippe Sands, Simon Sebag Montefiore, Daphne Selfe, John Sessions, Nicholas Shakespeare, Alexandra Shulman, Mona Siddiqui, John Standing, Alan Taylor, Kirsty Wark, Timothy West, Kate Williams, A.N. Wilson and Adam Zamoyski.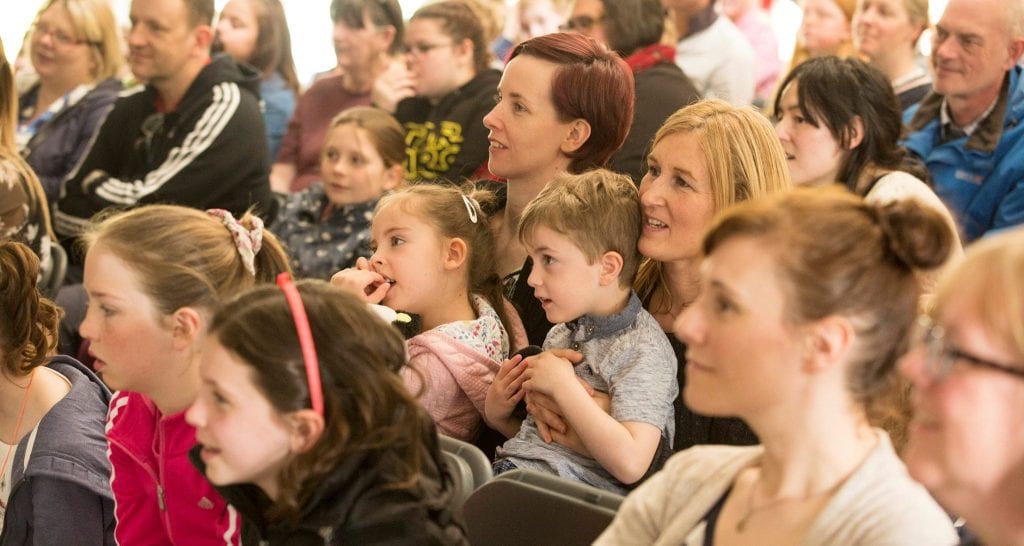 Through the Festival, the Boswell Trust engages with the primary and secondary schools in the neighbourhood of Auchinleck and beyond.
This has developed in three ways: first as an outreach programme which takes authors and illustrators into the schools; second as a dedicated Schools Day at the festival in which children experience a session with a current author, are introduced to James Boswell's life through a workshop and enjoy a tour of Dumfries House; and finally as a concurrent Children's festival which has authors and illustrators keeping parents and children entertained over the weekend.
The Boswell Trust also awards annual certificates connected to the writing of non-fiction by children. Children's writers who have been great supporters include Vivian French, Nick Sharratt, Christopher Lloyd (pictured below), Nicola Davies and Kjartan Poskitt of the Murderous Maths Organisation.