Welcome to the Auchinleck Churchyard gravestone spotter's guide to the life and times of James Boswell
Discover details of James Boswell's life and family along with the life of people of the Auchinleck Estate in the 18th century.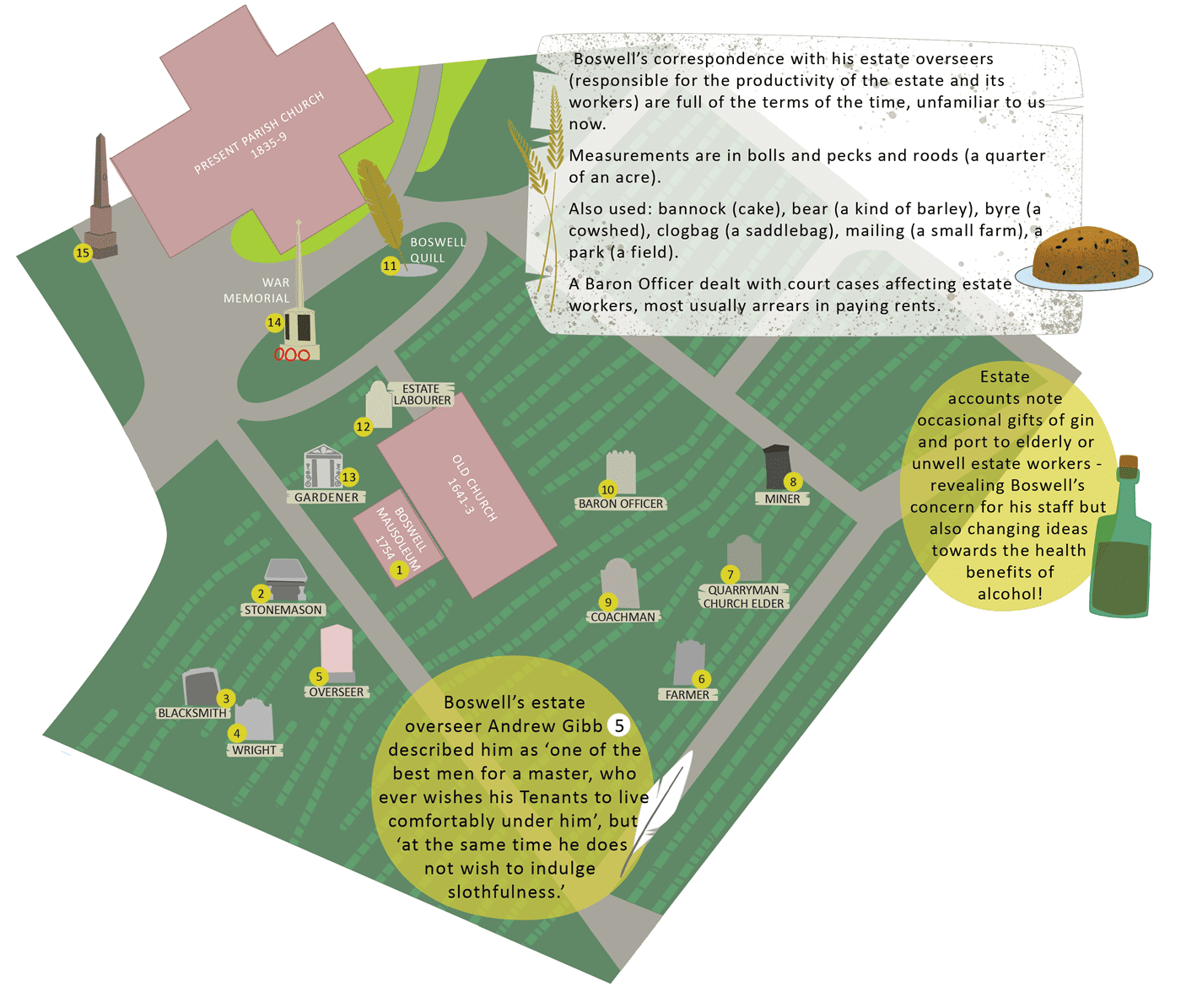 1 of 30
Click image to enlarge
2 of 30 War Memorial of 1921-22 by James A Morris. Sandstone obelisk with a small Celtic cross, supported on a circular panelled plinth, alternate panels filled with bronze inscription panels.
3 of 30
Click image to enlarge
4 of 30 Gardener. The burial place of Andrew Bruce. He was gardner at Auchinleck for 30 yearss died 8.4.1741 aged 50 years. Carvings – winged soul, pillars, 2 thistles in pots.
5 of 30
Click image to enlarge
6 of 30 Estate labourer. Erected Sarah Hair, In memory of mother Janet Gebbie 25.12.1865 86, father Alexander Hair 1.5.1868 84. (Note: Hugh Hair is father of Alexander Hair. Hugh Hair was born in 1758 and married Sarah Smith.)
7 of 30
Click image to enlarge
8 of 30 The Boswell Quill by sculptor Harry Gray is the first public structure in Scotland to celebrate the life of the ground-breaking biographer, travel writer, diarist, advocate, laird and celebrity interviewer, James Boswell (1740 – 1795). The Boswell Quill, inspired by an eighteenth-century quill leaning against its inkpot, can be seen in the churchyard in line with the War Memorial. Words running down the Quill describe Boswell's first meeting with Samuel Johnson on 16 May 1763, one of the most important in British literary history.
9 of 30
Click image to enlarge
10 of 30 Andrew Dalrymple: Baron Officer.
To the memory of Andrew Dalrymple, Mains of Auchinleck 4.6.1809 67, wife Elizabeth Simson 14.6.1809 59.
11 of 30
Click image to enlarge
12 of 30 Coachman. Here ly the corpse of William Templeton died January 1742, and Margaret Jamison, son John and Jean… (husband William Lennox, died January 17[95] 72)
13 of 30
Click image to enlarge
14 of 30 Miner. Erected William Yulle In memory of father William accidentally killed at Darconner branch of Railway Glenlogan Works 31.1.1856 38, brother 17.7.1855 11 months, sister Mary 12.7.1857 2 months.
15 of 30
Click image to enlarge
16 of 30 Quarryman and Church Elder. Erected James Murray died Rodinhead 4.9. 1829 82 In memory of mother 10.9.1798 77, father William died March 1807 93, brother William died Catrine 23.12.1831 82
17 of 30
Click image to enlarge
18 of 30 Farmer. Here lies the corpse of Hugh Reid, lt in Glenhead who departed this life Nov 1796 79, also daughter Mary Reid 25.6.1824 81.
19 of 30
Click image to enlarge
20 of 30 Overseer. Andrew Gibb, factor, Auchinleck 2.3.1839 71, In memory of 25 Dr James Gibb, died Matras 2.11. 1831 31, 4s John Ensign, died Hansi 21.8.1833 21 both in Hon East India Co. service 1s Andrew died Bridgond Mill 25.4.1874 76 (wife Jane Rankin died Bridgend Mill 1.4.1893 88) Carving of a hand clutching a broken spear or arrow, and two stars.
21 of 30
Click image to enlarge
22 of 30 Wright. This is the burial place of Alexander Peden, wife Anna Abercrombie 17.10.1809 77. Here lys the body of Jean Peden his daughter died May 1767 2, son James…
23 of 30
Click image to enlarge
24 of 30 Blacksmith. Erected In memory of James Wilson, blacksmith 7.6.1832 80, children Wm, Eliz, James died in infancy, daughter Janet 2.8.1836 20, wife Elizabeth Howet 17.1.1840 70, Ann Wilson 6.3.1850 37 (husband James McKay, five children died in inf)
25 of 30
Click image to enlarge
26 of 30 Stonemason. Erected by James Morton, mason, Auchinleck died 4.4.– [87], To the memory of his father Andrew Morton, mason died 9.5.17[84] [57], mother Agnes Currie died 15.4.1809 71, wife Janet T [Ginnyien] died 17.2.1833 76, daughter Mary died 1.8.183- 50
27 of 30
Click image to enlarge
28 of 30 29 of 30
Click image to enlarge
30 of 30
Download your own copy
Click the 'Download Guide' button to get your own copy of The Life and Times of James Boswell. (PDF 20MB)
Download Guide